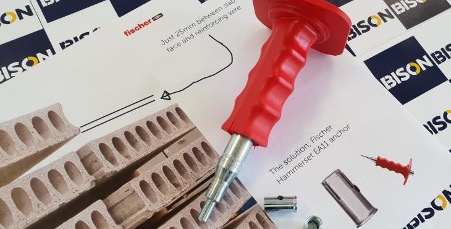 The problem; reinforced concrete slab steel rods are often just 25mm beneath the surface, making installation of wedge anchors a challenge. For installers hanging bracketry, containment or ductwork, trying to find the best fixing point in the slab without hitting the steel rod can be a real headache and lead to time wasted on site, wasted hole driling, and wear and tear on both the tools and the operator.
The solution; Fischer's Hammerset EA2 wedge anchor is just 25mm long, making the installers life a lot easier and the installation doesn't affect the structure of the slab. with such a short body the Hammerset anchor sits neatly in the slab and still provides exceptional pull-out performance.
And what's more, the dedicated setting tool gives a neat and clear visible indicator to the installer, making it obvious whether the anchor has been set correctly.
In stock in M8 / M10 / M12 at BISON – get in contact for fast delivery to your site.